Below: Exton Hall, Exton, Rutland. Watercolour by the late Trevor Brown. (Reproduced by permission of the Rt.Hon.the Viscount and Lady Campden).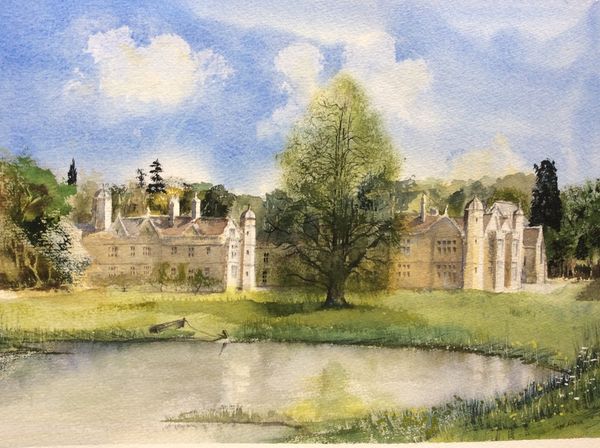 Below: Venice, another fine watercolour by the late Trevor Brown, our established artist who sadly passed away in 2020 .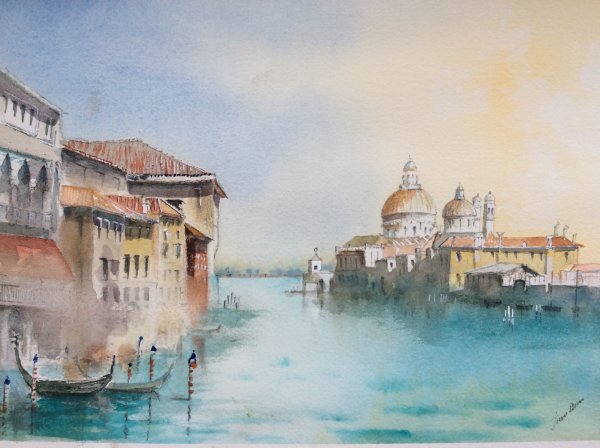 Below: Scenes at our art group session in Nov 2018 during artist Peter Barker's demonstration (see text on right).
Exhibitions and Other News
We are currently planning to exhibit in the Gallery of the Rutland Museum in Oakham for four weeks starting December 2022. (The museum is opposite Rutland Council offices and has free parking for 30 mins in its car park in South Street opposite the Fire Station)
Autumn 2021 Exhibition - We mounted an exhibition of our Artworks For Sale in the Gallery at Stamford Arts Centre for two weeks in November. Our members' artworks attracted 12 sales, which compared well with our last visit to this fine venue in late summer 2019, and we really look forward to exhibiting there again.
One Monday in November 2021 our art session at VAR comprised a Watercolours Workshop with professional artist Phil Biggs from Spalding, who guided our eleven participants through the stages of creating a Lakeland scene with a farmhouse, distant hills, trees and a drystone wall, much enjoyed by all.
From July 2021 the Group restarted "normal" art sessions on Monday afternoons 1.30 to 3.30 at the VAR Gover Centre conference room in Lands' End Way, using any precautions as set out in the latest anti-Covid regulations.
———————————————————————————————————————————————————
Older news:-
During 2020 between lockdowns we had an exhibition of artworks for sale in the inner gallery of Victoria Hall in Oakham High Street, as part of the Hall's Pictures For Pleasure exhibitions. Other artists also exhibited in the gallery space. Our prices were mostly well below £100. (This gallery space is currently occupied by other users).
Our Summer 2019 Exhibition was held over 19 days in late summer at Stamford Arts Centre. Twenty of the thirty members exhibited and 14 artworks were sold. We hope to return to this heavily pre-booked venue at some stage in the coming years, having previously secured a much sought after gallery booking there in 2016.
Occasionally we have local artists run demonstration sessions, and in November 2018 we engaged Peter Barker RSMA of Uppingham to paint in oils a winter frosty scene of a bend on the River Welland with rural fields, trees and telegraph poles in the misty background. His expertise with almost photographic detail in only about 90 minutes was very well demonstrated, as was his remarkable skill at filling in foliage and realistic detail only using a small part of the bristles of a one inch decorator's domestic paint brush. Do visit his gallery in Hope's Yard, Uppingham just off the High Street to see his truly fabulous paintings plus those of other top notch artists.
(Since the pandemic started in earnest in early 2020 we've had several online demonstrations via Zoom to members' homes).